Goin' On The Road
Posted by Dr. Vollmer on June 4, 2018
http://www.pri-med.com/medical-conferences/2018/regional-conference-chicago/agenda/sessions/QMONYA0EDUEF.aspx#sm.0001dcru4j43kf0pyjx2qs3r1e3hx
The Worried Well: Anxiety Disorders in Primary Care
Description
This talk will cover the assessment and treatment of anxiety disorders in a primary care setting, while incorporating new diagnostic issues incorporated in the DSM5. Signs and symptoms of generalized anxiety, panic and social anxiety disorders will be discussed, along with risk factors and available therapy options.
Learning Objectives
Classify anxiety disorders according to DSM5 guidelines
Choose a psychopharmacological agent to treat anxiety disorders
Manage patient anxiety in a busy clinical practice
Apply strategies to take patients off anti-anxiety medication
---
Speakers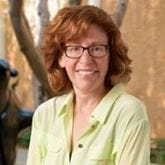 Shirah Vollmer, MD is a Clinical Professor of Psychiatry at the David Geffen UCLA School of Medicine. She is a board certified child and adult psychiatrist and she is a psychoanalyst. . Dr. Vollmer is a child, adolescent and adult psychiatrist and psychoanalyst in private practice in Westwood Village, California.