Talking Back To The Talkback
Posted by Dr. Vollmer on February 10, 2013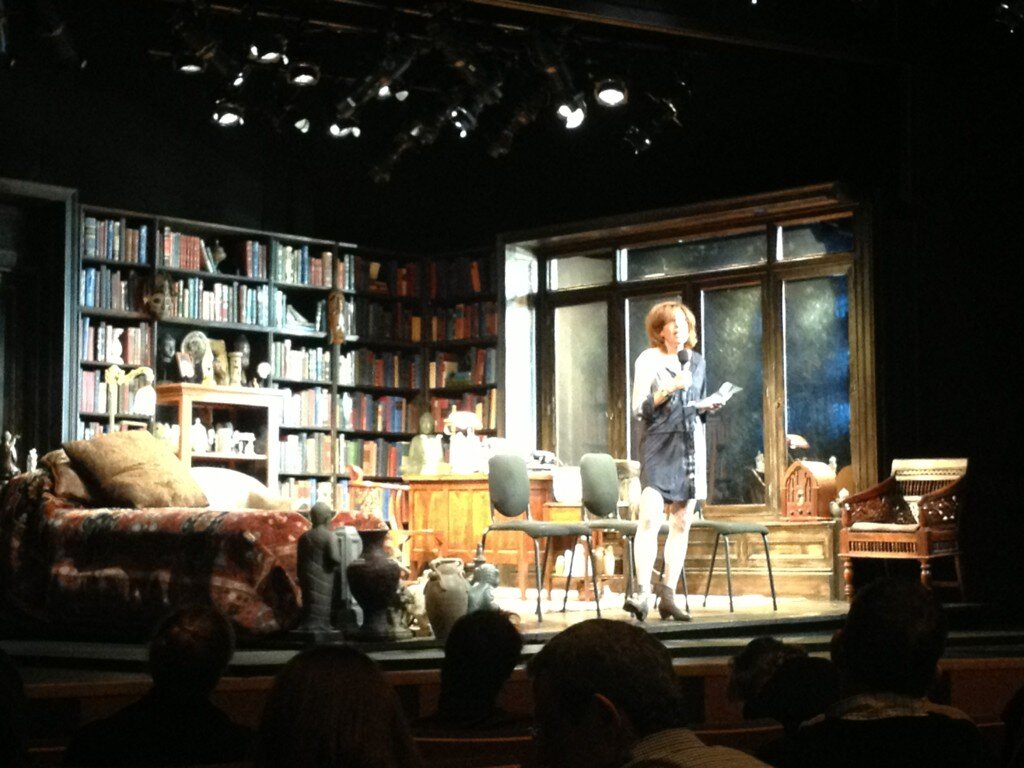 So, I studied CS Lewis. I reviewed Freud's life. I watch the PBS Special entitled "The Question of G-d." When it came down to the last few days, I mostly worried about my hair. This was a new and exciting experience for me, and as such, I felt like I had to narrow the field into one particular anxiety. In an odd way, that seemed to calm me down. Speaking to professionals is comfortable for me. I have a sense of why they come and what they want to hear to make their time feel well spent. This opportunity presented different challenges. I did not have a grasp as to who was in this audience. Some, a few, came to support me, and for that I was very grateful. Yet, the majority, I assume, were West Los Angeles theater goers who came to be entertained, but their idea of enjoyment was not so clear to me. How much did they know about Sigmund Freud or CS Lewis before they entered into this ninety minute sword fight? I made my best guess, as I approached the play as a drama which illustrated the conflict of ideas, as opposed to action. The mental game, if you will, provided the action in the mind. My five minutes on stage before the actors came on, felt long and short at the same time. I had a lot of ideas, but I also felt braced for the transition from speaker to moderator. The actors did arrive on stage, and I reminded myself that my job is to repeat the question, which sounds much easier than it actually is. No worries though, since the actors repeated the question they wanted to answer, and so I was left to hold my tongue from my urge to make the discussion linear. The actors exerted their charm. I was, as I expected, mostly a tree at this point. The evening concluded and then I could relax. Yet, like ending a good book, or leaving a good movie, I was left bereft. I so enjoyed the intense focus of trying to understand the life and work of two great thinkers in the twentieth century. Of course, I could continue my quest, but without the thought of standing up in front of five hundred strangers, the push to learn more has dissipated. My début is complete. I am open to more opportunities…..hint, hint!
9 Responses to "Talking Back To The Talkback"
February 10, 2013 at 8:27 AM

It is calming to worry about something that is actually not very important, as opposed to what is important–and that you also have more control over than the real problem. Our minds are smarter than we think.

So how did your hair behave?

February 10, 2013 at 10:38 AM

As for preparing for a speaking appearance before an audience, my usual approach is first to make sure that I know more than most, if not all, about what I am saying. Next is to know more than what I am saying, so when questions come, I have something cogent to say. By your training and your preparation, you definitely knew more than most. By your instinct (and your psychotherapy practice), you could definitely be cogent in replies.

Your open ended questions to the audience were indeed thought provoking and did not generate some audience response. I wonder if they many considered them after the talkback. One question in particular – Did the play change any of the audience view on the central them of the existence of god? I can answer in my case, no. Discussions with you, Shirah, were and are always worthwhile. I did not have any questions for the actors; however, I do have questions for the characters of Freud and Lewis. I also have questions for the playwright. Those I ask in a more intimate setting….

February 10, 2013 at 3:36 PM

Thanks, Jon. I agree with you that questions percolate over the course of days or weeks after experiencing a cultural event. It would be cool if people could return a week later for a "Talkback" to see what a difference that would make. For example, if a play is running six weeks, then those who see it early on should be invited to attend a Talkback later in the run, to ask the questions they have been thinking about. Such thoughtful discussions, which as you say, would be particularly cool if they included the playwright, could create a feeling of a salon where ideas are discussed, but answers never given. Thanks again.

February 10, 2013 at 10:38 PM

Wish I had been there…..